Israel's observance of Yom haZikaron continued yesterday during the day, in events and ceremonies throughout the country. Many schools held assemblies to commemorate the day, geared toward the age levels of the students, like this school in Jerusalem.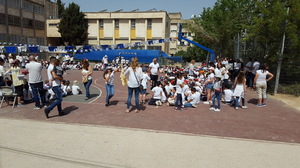 This school's ceremony, like many, were timed to coincide with the second air raid siren, at 11 am. Like the night before, most Israelis stopped their activities and stood at attention to honor those who died. This time, I was next to Jerusalem's Light Rail tracks, and I watched the train driver throw on the emergency brake and stand up inside his cab. On a street crowded with people bustling to get to Mount Herzl just seconds earlier, it was eerie and surprising to see everyone suddenly stand still.
Next, we headed to Mount Herzl, Israel's national/military cemetery. When we arrived, a ceremony was underway that included speeches from various dignitaries, as well as a recitation of the Mourner's Kaddish, the prayer in memory of those who have died. Growing up at Jewish summer camp, I learned that this prayer is special to Israelis because they only recite it at funerals. (Americans regularly include it in services throughout the year.) It was a special experience to see the Israelis at Mount Herzl recite it together.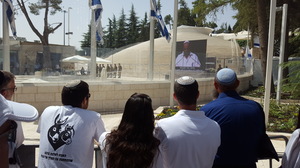 Many Israelis visit their family members' graves on Yom haZikaron, and Mount Herzl was packed. We spoke with an American who made Aliyah (became a citizen) after joining the Israeli army, and she told us that the army makes sure that every grave has a visitor on Yom haZikaron. (Look out for a separate post later on with more of her story!)
Throughout the day, officials read the names of soldiers who had died. The crowd here was large, but still only a fraction of Har Herzl's visitors for the day. This ceremony made me think about our own Memorial Day in the United States, which I personally observe as a tribute to soldiers who have died, but which too many people know only as a day for barbeques and department store sales. The tone here in Israel is markedly different, and I think it better suits the meaning of the day. 
Many of the graves at Mount Herzl were decorated with personal touches from friends and family members. I thought it was nice that the cemetery allows that sort of freedom, because in addition to helping the families mourn their loss, it also allows random visitors (like me) to get a sense of who these people were in life. One grave had a bottle of orange Fanta on it, which seemed tremendously out of place, and probably made the family extremely happy.
After a short break from the scorching heat, we attended a ceremony at the Tower of David, just outside the walls of the Old City of Jerusalem. The ceremony was run by a secular Midrasha learning program for young adults, and it began with a really cool activity asking attendees to record their own perspectives on Israel's 70th birthday. The organizers also put up posters of various luminaries and politicians from throughout Israel's history.
As the crowd gathered, the ceremony began with some beautiful songs in front of the sunset, intended to bridge the gap between the somber tone of Yom haZikaron and the celebratory nature of Yom ha'Atzmaut. The attendees were mostly secular young adults, who have been participating in holiday services with this organization.
The ceremony continued with a learning session led by one of the community's leaders. The attendees were perfectly attentive, and seemed to be moved by his speech. This event was especially cool because, unlike in the United States, Israel doesn't have many opportunities for the non-Orthodox  to get involved in religious observance. A few new programs have kicked off recently, and I'm excited to learn more when I explore the observance of Shabbat.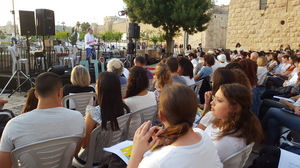 Check back later to hear about the second half of the ceremony, which focused on the Yom ha'Atzmaut theme of "dreams for Israel at 70"!